Security Camera Systems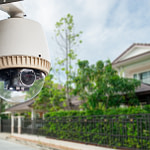 We specialize in residential and commercial CCTV surveillance systems for the Baltimore area. At Murrey Installations, Inc. we are the experts in surveillance system design and surveillance system installation. We will design and implement a surveillance system tailored to your needs both financially as well as practically. Murray Installations features functional and simple to use DVR and NVR IP recording products. We can also install hidden cameras to watch a babysitter, your customers, or even help catch a dishonest employee.
Surveillance System Installation You Can Depend On
We are IQ Certified, so you can rest assured our surveillance system installation is top notch. After careful surveillance system design, our trained technicians begin your installation, using the finest equipment. Once installed, you can depend on our local monitoring system, and when operated by trained users, our surveillance systems typically function without fault for years.
Today's home surveillance systems, while very high tech, are actually very simple to use. A surveillance system installation from Murrey Installations will give you peace of mind that your home and family are protected.  You can see what's going on at home from any internet connected device including your smart phone or work computer.
A live video surveillance feed, or a recorded feed is offered for you to check your cameras. You can set your home surveillance system to alert you when someone is at the front door or other location. All with just a few simple clicks.
Our commercial video surveillance systems have you covered, from the parking lot and loading dock and entrances to interior placement of security cameras as needed. Security camera systems act as a deterrent, but also help you catch the culprit in the event of theft or vandalism.
Depending on how big your commercial location is and how many security cameras you have installed, you may have a monitoring station at your facility. We can design and install that for you as well. Murrey Installations also offers security monitoring 24/7 for our business clients.
All of our surveillance systems are accessible through remote access from your smart phone, laptop, tablet, PC or other device, allowing authorized personnel to check in on who is coming and going at any given time.
We also do upgrades of existing video surveillance systems.
Call Murrey Installations today at 410-527-1177 or use our contact form to set up an appointment for an onsite visit. After seeing the physical layout of your home or business, and hearing your needs and concerns, we can develop an estimate for your surveillance system installation. We serve the greater Baltimore area including Baltimore County, Harford Count, Anne Arundel County and Howard County.