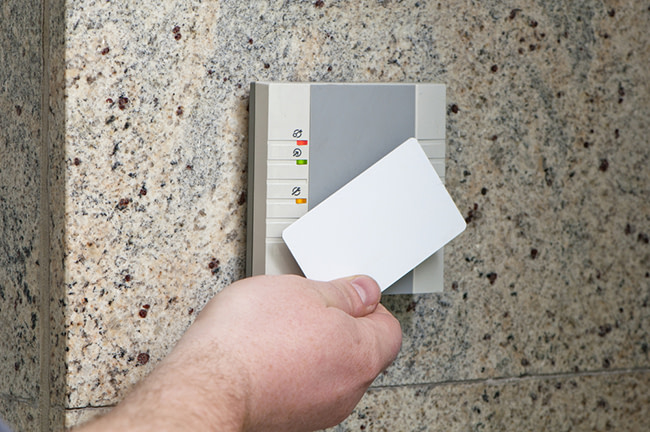 Commercial Access Control System
Murrey Installations installs and repairs access control systems for businesses and some educational facilities throughout the Maryland area. Access control systems allow businesses of all sizes to ensure only authorized personnel have access to your facility, and to critical areas inside your business, such as the security center, computer server room, inventory room and more.
Access Control Security Systems
Access control security systems also allow you to keep track of who went where, and when, through audit trail reporting. Murrey Installations can help design an access control security system for your business that is tailored to your needs, and will protect your business, your employees, your equipment and data from unauthorized access. The system can be designed with several levels of access, so that employees only have access to the parts of the building they need in order to complete their duties.
We recommend Honeywell Access Control Systems, but can install and service access control security systems from any manufacturer.
Some of the key components of your access control system include:
Access Control Solutions – Access control software that integrates your security system with networking capabilities
Web Based Access Control – The built-in web server allows programming and maintenance from any internet browser without operating concerns or viruses, saving you time and money.
Managed Access Control
Control Panels/ Hardware
Visitor Management Systems
Readers – full line of readers ranging from proximity, Wiegand, keypad, magnetic stripe, barcode and biometric.
All of our access control systems give authorized personnel the ability to remotely grant and deny access via a computer, laptop, tablet, smartphone, etc. This is critical in emergency situations, as well as for other unforeseen circumstances.
To set up an appointment for an estimate for an access control system for your business, and to discuss some of the options available, call us today at 410-527-1177.